Introducing Notebooks
As many of you know, there have been two major features that we have had before us over the past couple of months: Notebooks and a full Unfuddle API. Today, we are very proud to be releasing Notebooks to the world.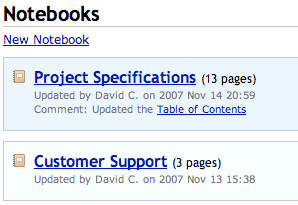 While Unfuddle messages are good at capturing ephemeral conversation, there has been no way to author something like a specification or manual. Notebooks are a collection of related pages, often comprising documents such as specifications or reference documents. Each notebook can be thought of a stand-alone wiki.
Unlike many other wiki implementations in project management tools, each Unfuddle project can have any number of Notebooks. We have found this to be a great help in organizing our data, as traditional wikis can often become very sprawling and difficult to maintain.

You will now find a new tab titled "Notebooks" in each of your projects. Getting started is as easy as creating a new Notebook and starting to write!
NOTE: The default permission on Notebooks for all non-administrators is 'None'. If you are currently in a project and you do not see the Notebooks tab, you should contact your project administrator for access.
Here are some of the highlights of Notebooks:
Each Notebook page is completely versioned, allowing you to quickly see history and compare differences between versions.
Notebooks can have any number of attachments, which can then be referenced from your pages.
Pages can be interlinked using simple Unfuddle markup.
All notebook pages are fully integrated into Unfuddle search, email notifications and RSS feeds.
Enjoy!