The Unfuddle API and Widgety Goodness
Today, we are very pleased to announce the release of the Unfuddle API to all Unfuddle customers. This is a very exciting release for us all as it offers a tremendously powerful way to integrate Unfuddle into other applications and development processes.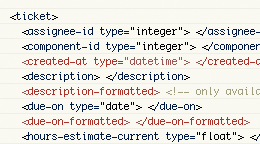 The Unfuddle API offers direct access to practically every aspect of your Unfuddle account. It is completely RESTful and offers all resources in XML and JSON, as well as a number of other formats where appropriate (RSS, iCal, CSV, and others). We have had a number of users also report success integrating the Unfuddle API with ActiveResource, the dead-simple RESTful client found in the recently released Rails 2.0.
For those of you who cannot wait to take the Unfuddle API plunge, more information, including examples, can be found in the Unfuddle API Documentation. There is also a forum in the Unfuddle Community dedicated to to API topics.
It should be noted that the Unfuddle API is still wearing it's BETA hat. Thanks to the help of our beta testers, the vast majority of the Unfuddle API has reached equilibrium. However, we wanted to broaden the opportunity for feedback one last time before giving the API its final seal of approval.
Is that a Widget in your Stocking?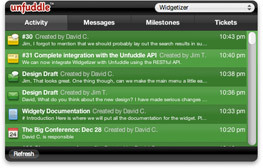 It's also the holiday season for many of us…and that means presents. In celebration of the holidays and the new Unfuddle API, our designer David, has whipped together the first version of a Mac OS Dashboard Widget for Unfuddle. Now you can monitor project activity, create tickets, time entries, and more, all from the comfort of your Mac desktop.
The icing on the cake is that the Unfuddle Dashboard Widget actually leverages a huge portion of the JSON interface to the new Unfuddle API. Cool, huh?
You can learn more and download the Unfuddle Mac OS Dashboard widget here.