Project Archives and Plan Upgrades
Our customers are growing and Unfuddle is committed to growing with them. Many of you have asked for more projects as well as the ability to archive projects that are no longer active. We are happy to say that we have added these features today.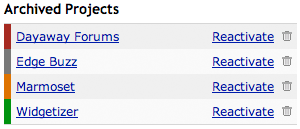 To archive a project, an account administrator need simply click the "Archive" link on a project from the Projects tab. This places the entire project into a read-only mode, including its associated Subversion repository. If needed, the archived project can also be easily reactivated.
In addition to the project archival feature, you will find that we have upgraded our plans across the board, adding more people, storage, and projects for the same price to our customers. Of special note is that our FREE account now supports 200MB of space and two users. For a full plan comparison, see our plans page.
Thanks again to those of you who have shared such valuable feedback with us through both the community forums and emails. This feedback has truly grown Unfuddle into the product that it is today!