Custom Ticket Fields
Many of you have asked for the ability to create and set custom fields for your tickets in Unfuddle. We are happy to announce that this is now possible!
Every Unfuddle project now provides three totally customizable ticket fields. Each field can be assigned a custom title and any number of values. These values can come from a list, pre-specified by an account administrator, or they can be arbitrarily specified during the creation or editing of a ticket.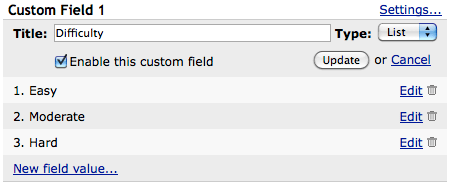 Smarter Ticket Interface
Each custom ticket field can be marked as active or inactive indicating whether or not it should be shown in the interface. Along with this, we have also hidden any unused fields (Severity, Component, and Version) from the ticket interface to remove unnecessary clutter. This means, for example, that if you have no Components defined for a project, the "Components" field will not be displayed for tickets in that project.

Unfuddle API Integration
As with all other aspects of your Unfuddle account, custom ticket fields can be modified via the Unfuddle API allowing for even more flexible integration with outside tools.
As always, thanks to everyone who has taken the time to share comments and feedback. We are excited to be working on a number of additional enhancements and additions for release in the near future.