Updates to Project Activity and Messages
This week we are bringing you some updates to both the Activity page and Messages.
The Activity page has been completely revamped to function as a daily activity report. This makes it extremely easy to catch up if you were out of the office for a while or if you are looking to see what happened on a project on a specific day. Activity is grouped by object (ticket, message, etc), making it easier to parse, especially if you have a very active project. We expect to add additional filtering and sorting options in the future.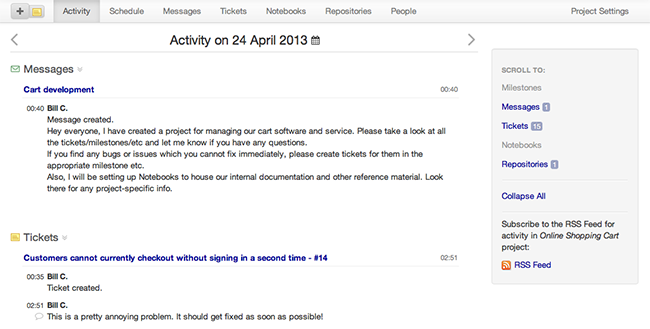 </a>
Messages have also received a complete facelift. You will notice that the comments have moved to the right hand side of the screen, greatly optimizing screen real estate for most users. And don't forget that drag-and-drop attachments are active everywhere on the page now, including on message comments.

</a>
There have been a lot of changes to the interface lately. We have been really happy with the results and we hope that you are too. But as always, we are hungry for your thoughts. If you have any comments, please let us know!