Custom Ticket Statuses and Project Workflows
Custom Ticket Statuses
As you may have already noticed, we have just flipped the switch on the new ticket view for all Unfuddle accounts. You may recall that this new view paves the way to some new and exciting features, namely custom statuses and task boards.
So, today, we are simultaneously launching custom statuses to all of our customers who have Compact plans and above. Go ahead. Define as many statuses as you like. Bend Unfuddle to suit your own specific workflow. It's now easier than ever!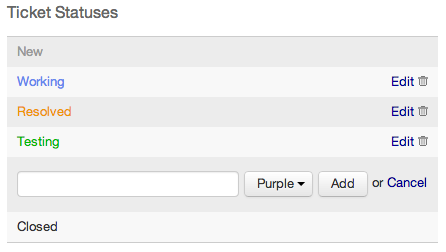 Statuses can be added and removed by administrators from the project settings page. Please note that some statuses are required for certain powerful commit messages to continue working. For example, removing or renaming the "Resolved" status will prevent any resolve actions from being processed in the future.
Schedules
Custom statuses are awesome and really help Unfuddle to map to how each team thinks and works. But task boards are what we are really looking forward to introducing in Unfuddle. We are calling them "Schedules" and each milestone in your project essentially represents a schedule.
You may have even wondered at some point about the "Schedule" tab and thought, "why isn't it just called 'Milestones'?" Well, this is why! Even while we have been working on the new ticket view and custom statuses, we have also been working feverishly on Schedules and are looking to deploy them in the very near future.